Foodbank Collection Points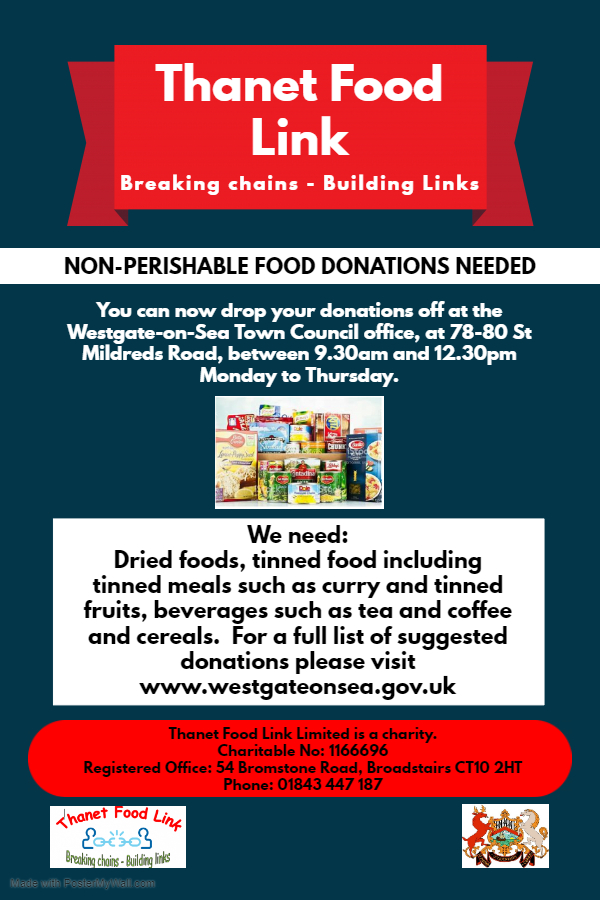 Thanet Food Link
All donated non- perishable food will go towards supporting those living within Thanet who find themselves without food.
Food Link Shopping List
Tinned / Jar Food
ð Baked Beans
ð Custard
ð Fish
ð Fruit
ð Rice Pudding
ð Meals e.g. Chicken Curry; Chilli Con Carne; Irish Stew etc.
ð Meat e.g. Corned Beef; Hot-Dogs etc.
ð Soup
ð Spaghetti
ð Pasta sauce
ð Tomatoes
ð Vegetables e.g. Carrots; Peas; Sweetcorn etc.
ð Potatoes
ð Meat/Fish Paste
Dried Food
ð Packet mash potato
ð Cup-a-Soups
ð Dried Pasta (500g)
ð Dried Rice (500g)
ð Noodles
ð Packet Cous-Cous Meals
ð Packet Pasta Meals
Other Food
ð Biscuits
ð Breakfast Cereals(small boxes)
ð Cereal Bars
ð Jam
ð Cream Crackers
Beverages
ð Coffee (100g)
ð Dilute squash (1 litre)
ð Fruit Juice (long life)
ð Milk (long life)
ð Tea Bags (40/80)
Every time you shop on AMAZON you can ask for a small donation from your purchase to go to a charity of your choice. You pay the exact same price for the item as you would have done but the charity benefits.
We are now registered with Amazon smile.
How it works:
1. When you want to shop on amazon, go to smile.amazon.co.uk which should open exactly the same as your usual amazon page.
2. Go to "Account & Lists" (top right) and click to open "Your Account"
3. Scroll down to the section "Shopping Programmes"
4. Select "Change your charity"
5. Under "Pick your own charitable organisation" type Thanet Food Link Ltd and click "select"
Done!
Then all the donated money will come to us and will be paid into our account every quarter.
It's not a huge amount but every little helps and it costs you nothing.
Next time you shop on amazon it will ask you if you want to do it via Smile.amazon and you just click yes to donate.