Neighbourhood Watch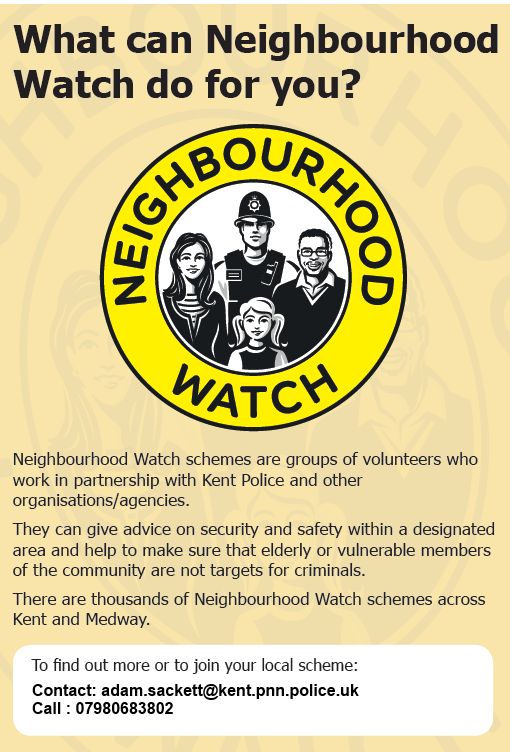 Our Mission explained
Our aim is to bring neighbours together to create strong, friendly, active communities where crime and anti-social behaviour are less likely to happen.
Our vision is that of a caring society that is focused on trust and respect in which people are safe from crime and enjoy a good quality of life. Neighbourhood Watch is about making sure that fewer people feel afraid, vulnerable or isolated in the place where they live.
For more info https://www.ourwatch.org.uk/crimes/
In 1998 it was identified by the then government that in order to effectively tackle crime and disorder agencies needed to work together to tackle identified issues collectively. Community Safety Partnership's (CSP's) formerly Crime and Disorder Reduction Partnerships (CDRP's) were set up to be the conduit between different agencies and organisations both statutory and voluntary.
We produce an annual Community Safety Plan which sets out the themes for the partnership.
If you would like to share your views please complete our questionnaire Thanet Community Safety Partnership Consultation 2019 . This consultation closes on 5 March 2019.
For 2019-20, Thanet Community Safety Partnership is proposing to centre our work around the following three themes:
Reducing offending and re-offending
Safeguarding our most vulnerable people
Improving community confidence and agency collaboration
The themes will have particular areas of focus such as domestic abuse, anti-social behaviour, gangs & exploitation, violent crime, organised crime & counter terrorism which all cut across the themes. The partnership plan aims to be more flexible & responsive to emerging issues using a range of methods to analyse statistics, pick up on real time information & take feedback from residents.
Please browse the information below to find out about the work we do and how you can get involved and have your say in helping to make your community a safer place to live and work.
When and where can I attend a Neighbourhood Engagement Meeting?
The partnership delivers Neighbourhood Engagement Meetings (NEM) to identify the issues around crime and anti social behaviour that matter most to residents in our local communities.
The NEM meeting is attended by police sergeants and PCSOs for that area and district council representatives. Members of the community are free to pose questions or make observations about their area, even down to street level.
The district is divided into North, East, South and West geographical areas – with those living in more rural areas attending whichever location is closest and most relevant to them.
The next meeting dates and locations are:
Birchington to Westbrook
7th August 2019 – 6.30pm – 8pm – The Centre, Alpha Road, Birchington, CT7 9EG
6th November – 6.30pm 8pm – Garlinge Primary School, Westfield Rd, CT9 5PA
A day in the life of a PCSO
Hi I am Suzie your local Police Community Support Officer (PCSO).
I have been a PCSO for nearly 12 years and started my career in Medway before transferring to Herne Bay where I spent 10 years covering most areas.
In September 2017 I transferred to Margate and was assigned Westgate-on-Sea as my ward and shortly after that Westbrook was included due to the PCSO for that area being moved areas.
On an average day starting at 8am I arrive at work, check my emails and any calls or crimes that have been reported overnight. I get my uniform on which consists of a stab vest, load vest, fleece (in the winter) hat, body worn camera and radio. I then head out of the Police Station on foot along the sea front at Westbrook, checking the beach huts to make sure there is no damage and they are safe. I walk round the coast talking to many dog walkers until I get to Westgate Bay. I then walk through town checking shops, public areas and residential roads to provide a high visibility presence allowing people to speak to me to ask advice or to report an incident.
If a call has been reported overnight that is suitable for me to attend then I will visit the person to offer advice and reassurance and if I am out in the area and a report comes in then I attend to deal with the incident.
On the late shift starting at 1pm, I have a similar routine to the morning of checking emails/calls, equipment on and out on foot, but when it gets dark I often pair up with another PCSO and we patrol the whole of Margate in a car, checking "hot spot" areas mostly dealing with nuisance youths or attending low level calls to deter crime.
I attend Community Meetings and hold a monthly drop in clinic at the library on the first Wednesday of the month between 2 and 3.30pm.
Although I spend a majority of my time in Westgate I am often required to attend other areas to carry out scene preservation, road closures, house to house enquires, and high visibility patrols or attend calls with other PCSO's to offer support.