Neighbourhood Watch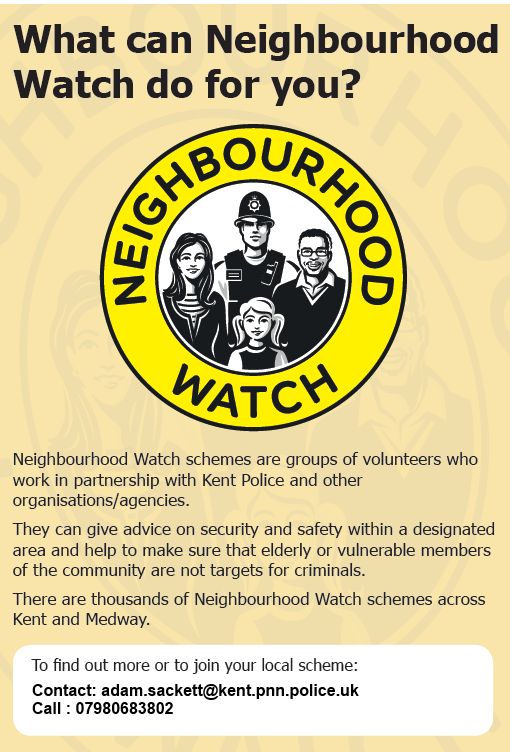 Our Mission explained
Our aim is to bring neighbours together to create strong, friendly, active communities where crime and anti-social behaviour are less likely to happen.
Our vision is that of a caring society that is focused on trust and respect in which people are safe from crime and enjoy a good quality of life. Neighbourhood Watch is about making sure that fewer people feel afraid, vulnerable or isolated in the place where they live.
For more info https://www.ourwatch.org.uk/crimes/
In 1998 it was identified by the then government that in order to effectively tackle crime and disorder agencies needed to work together to tackle identified issues collectively. Community Safety Partnership's (CSP's) formerly Crime and Disorder Reduction Partnerships (CDRP's) were set up to be the conduit between different agencies and organisations both statutory and voluntary.
We produce an annual Community Safety Plan which sets out the themes for the partnership.
For 2020-21, Thanet Community Safety Partnership is proposing to centre our work around the following three themes:
Reducing offending and re-offending
Safeguarding our most vulnerable people
Improving community confidence and agency collaboration
The themes will have particular areas of focus such as domestic abuse, anti-social behaviour, gangs & exploitation, violent crime, organised crime & counter terrorism which all cut across the themes. The partnership plan aims to be more flexible and responsive to emerging issues using a range of methods to analyse statistics, pick up on real time information and take feedback from residents.
We are currently asking for the views/perceptions of Anti Social Behaviour (ASB), crime and disorder in your area. If you would like to share your views please complete our online Annual Perception Survey 2021.
Please browse the information below to find out about the work we do and how you can get involved and have your say in helping to make your community a safer place to live and work.
When and where can I attend a Neighbourhood Engagement Meeting?
The partnership delivers Neighbourhood Engagement Meetings (NEM) to identify the issues around crime and anti social behaviour that matter most to residents in our local communities.
The NEM meeting is attended by police sergeants and PCSOs for that area and district council representatives. Members of the community are free to pose questions or make observations about their area, even down to street level.
The district is divided into North, East, South and West geographical areas – with those living in more rural areas attending whichever location is closest and most relevant to them.
Due to the current coronavirus (COVID-19) pandemic, all neighbourhood engagement meetings are being held virtually. NEMs held in December can be accessed via our Facebook page @ThanetCommunitySafetyPartnership. Future NEM dates are yet to be confirmed.